Promotional Goods
We can print banners, posters, prints, mugs, T-shirts and all manner of promotional goods.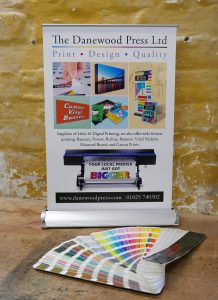 The vinyl banners are very popular as are the roll down exhibition posters.  We can provide them at full height or A3 size.
Giclee fine art prints are available on various grades of paper. You can have a framed picture of your cat or any other of your favourite pictures on a canvas for your wall.  These are also great for presents!
Luggage tags, Golf Tags, Swing tags, Price tags
Direct Mail
Danewood have the ability to do the short run jobs in house, and can also handle larger jobs offering a complete service for local business.
Printing for Trade
We are used to working with print management companies and have built a good relationship with many over the years.
Other printers use us because we offer great value with a fast turnaround if needed. Short run thermographic work is very popular such as invitations etc. As we have single and two colour B3 machines we offer a great service in spot colour business cards and letterheads, also short run 4 colour work as well.