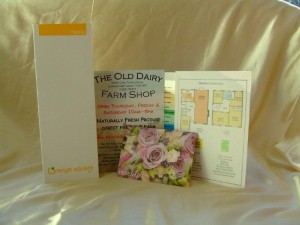 In an age of more sophisticated methods, is there still a place for leaflets?
Absolutely, if used properly. Leaflets are still one the most effective marketing products around. A well designed leaflet will signpost potential customers to your event or product. Combine a leaflet with a mix of other marketing solutions and spread the word.
No business should rely on just one method of promotion. And it's dangerous to assume that social media and e-marketing are the only promotional methods you need. Sure, people are printing less than they were ten years ago, but there's still a place for print, espeically at exhibitions, promotional days and netwroking events.  People like to take stuff away, read it, touch it and ponder it.
People will judge your business on the design, quality of print and paper you use. For most businesses, it pays to invest in getting their promotional materials looking good. For your leaflets, choose a look and feel that's right for your business and your campaign aims.  In certain instances, that might be full-colour printing on expensive glossy or matt art paper; some businesses might go for one or two colours on a cheap cartridge paper, it depends on what you're trying to achieve.
Should I opt for one-sided leaflets to keep costs down?
With leaflets, the biggest cost is usually distribution, so make the most of the space and go for double-sided. Don't cram your leaflet full of text. Use a striking image on the front, an attention-grabbing headline and news of an offer perhaps, then use the back to explain and convey your key marketing message, but do it in as few words as possible. Less is more…
Does the leaflet's size matter?
Depends what you're selling and to whom you're trying to sell, because both have a bearing on how much copy you need to write, which will affect how much space you need. Don't make your decision purely on cost. Pick a size that enables you to include your text and some nice images comfortably. Common sizes include A5, A4 or an A4 sheet folded into three.