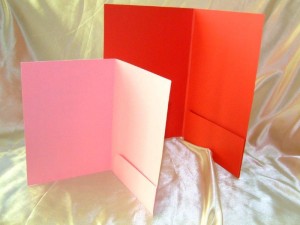 Folders can come in all shapes and sizes and can me made to your specific requirements
They can be used for many presentation needs –  for school prospectus or business proposal, training packs and welcome folders.
A well designed and printed folder can set the tone of your presentation before any meeting or phone call.
Presentation folders are a subtle but effective way to organise documents, and a great marketing tool.
We all know the importance of creating the right impression and if you're meeting a new customer or providing contracts, training material and other important documents, every detail counts.
When designing your folder keep in mind the following tips:
• Keep it minimal – Presentation folders are functional and, ultimately, it's what's inside that counts – so minimalism is key
• Got a tagline? Use it – As well as including your company name and logo, you could also consider adding a tagline that represents your business
• Use a strong image – A folder is a great place to showcase an inspiring image that represents your company and services
• Think about the content – If you know that you'll mostly be using folders for a particular purpose, consider including that in your cover message
• Include contact information –  It's always good practice to let your customers know how they can reach you. Include your phone number, website, email and social media links
We have a range of folder cutters in stock.  Bespoke items can easily be arranged to help meet your needs and make you stand out from the crowd.
Contact us today to discuss your requirements