Brochures
NCR Business Forms
Hospital Stationery and forms
Golf Tags
Labels
Invitations
Pads
Envelopes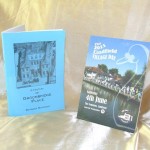 Printing for Business, Services , Financial, Medical and Legal.
Danewood are well practised in giving business the best service for a great price. Quality control is always top priority as is getting the job done on time. We can help organise your print orders so you can maximise savings. We offer a branding design service for companies wanting to refresh their image.

Printing for Sports Clubs, Societies, Associations, Federations, Local Government and Charity's.
Being located in the middle of Sussex, Danewood has had the privilege of working with many fantastic local organisations.  For many years we have been producing fixture booklets for local clubs, score cards, signage, leaflets, annual reports, labels, luggage tags, calendars, programmes, tickets, information packs and many other items you can think of.
Business Forms
Many companies large, small and one man bands still use carbonless NCR forms because they are reliable, simple to use, require no batteries, and don't crash. We can create any form you could need from full colour, thermograph, numbered, perforated, mushroom cut out and euro-slot, made up  into books, pads or sets.
Direct Mail
Danewood have the ability to do the short run jobs in house, and can also handle larger jobs offering a complete service for local business.
Banners, Posters, Prints, Mugs, T-shirts and all manner of promotional goods.
The vinyl banners are very popular as are the roll down exhibition posters. Giclee fine art prints are available on various grades of paper. You can have a framed picture of your cat on a canvas for your wall in the hall! Great for presents!