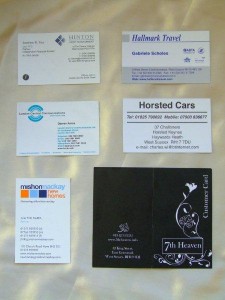 Business Cards
Business cards  –  probably your most used piece of marketing material, so it needs to be designed to reflect your business and leave a positive lasting impression.
A well designed business card can be a conversation starter and your chance to impress potential customers.  We can help you design your card from scratch – ensuring the graphics and information are correct, and reflect your business.
We have a great range of boards in stock,  with samples available for you to choose from. Full colour or spot colours, including metalics or foil are availabe with finishes like matt  or gloss lamination, blind embossing, and thermographic printing.  Sounds like a lot of jargon?  We explain it all to enable you to make the perfect choice.
We produce many types of business cards for personal and corporate customers.
We offer big savings for corporate customers who have many names to print.
Whatever your needs, contact us today to produce your perfect business card.